Source: SutTekhEL Youtube channel, profile copied from Wikipedia.com
There is currently 4 videos, if anymore are made I will post them accordingly or stay tuned to SutTekhEL Youtube channel.
A a little more history on Duse Muhamed Ali the Moor
Duse Mohamed Ali (Bey Effendi)(November 21, 1866 - June 25, 1945) was an African nationalist. He was also an actor, historian, journalist, editor, lecturer, traveller, publisher, a founder of the Comet Press Ltd. and The Comet newspaper (Nigeria). He was born in Alexandria, Egypt. His father, Abdul Salem Ali, was an Officer in the Egyptian Army and died in active service at the battle of Tel-el-Koiber, Egypt, in the year 1882. His mother was Sudanese. Ali would eventually lose his knowledge of Arabic and contact with his family in Egypt. He received his early training in Egypt, but whilst still young he proceeded to England where he was pursuing his education until the death of his father forced him to return to his homeland. Having settled his affairs at home he returned to England again, still as a young boy and as the ward of Canon Berry, he pursued his studies at King's College London.
Ali originally intended to take up the medical profession and had actually started on his medical studies when the news of his father's death came to him[citation needed]. Left to make his choice, he felt strongly the urge to write and also to go on the stage and so he left his medical studies. On completing his studies at the University of London, he went on the stage where he soon distinguished himself and it was not long before he ranked with the foremost actors of his time.
Besides Ali's strong nationalist and Pan-Africanist views, he was an active proselytizer to Islam, having in 1926 established the Universal Islamic Society in Detroit, Michigan. It is said that this organization was the precursor to both Noble Drew Ali's Moorish Science Temple and Wallace Fard Muhammad's Nation of Islam, and a source for their beliefs and information. This Islamic influence can be seen in Marcus Garvey's motto "One God, One Aim, One Destiny".
The lasting effects of Ali's social and academic efforts are far-reaching, being seen in not Garvey but in those whom Garvey was mentor to, such as Noble Drew Ali and Elijah Poole (who was reportedly involved with the Universal Negro Improvement Association and African Communities League's [UNIA] Detroit chapter before joining the Nation of Islam and becoming Elijah Muhammad). Both of Malcolm X's parents were also members of UNIA. A continuum of claims and beliefs can be found among these movements and their leaders, such as Black Pride, the idea of a land base, Black Supremacy, and return to the primordial religion.
Duse Mohamed Ali was also in the company of Herbert Beerbohm Tree and in Mrs Langtry's Antony and Cleopatra production, at the Royal Princess Theatre, London. Mr. Ali also toured England, Ireland and Scotland. He produced Othello and The Merchant of Venice at Hull, Yorkshire in 1902, playing the parts of Othello and the Prince of Morocco, and winning the plaudits of the British Press. Among his credits as a playwright, he produced, The Jews Revenge at the Royal Surrey Theatre in London, in 1903, A Cleopatra Night at Dundee in 1907, and the Lily of Bermuda, a musical comedy which he produced at Theatre Royal, Manchester, in 1909.
Every production of his received the enthusiastic welcome of the British and American Press, but perhaps the most outstanding of his productions and performances was A Daughter of Judah which was first produced in the Glasgow Empire Theatre, in 1906. Reviewing the production, the London Daily Telegraph wrote: "Duse Mohamed is an actor of outstanding merit." He also produced many plays in America where he won fame as an actor. He won fame also in England as a social worker.
Duse Mohamed Ali founded the Hull Shakespeare Society of which Sir Henry Irving was the first President; the Anglo-Ottoman Society, London which included Lords Newton, Lamington, Stourton and Mowbray. He founded and was Secretary of the Indian Moslem Soldiers' Widows' and Orphans' War Fund, in 1915, and among the patrons were Consuelo, the Duchess of Marlborough, the Right Hon. D. Lloyd George, Sir Edward Grey, Lord and Lady Lamington, Lord and Lady Newton, the Marquis and Marchioness of Crew, Mrs. H.H. Asquith, Sir Austen and Lady Chamberlain, Lord Curzon, and almost all the members, of the British Cabinet.
In 1925, at Detroit, Ali founded the Universal Islamic Society, of which he was President, and in 1926 he founded the America-Asia Association. He was a great authority on modern Egypt. He wrote In the Land of the Pharaohs, a history of modern Egypt, published in London and New York in 1911.
In 1911, after the First Universal Races Congress held at the University of London, he founded the African Times and Orient Review in London. He was assisted financially in launching the paper by some West Africans who were visiting London, including Casely Hayford, Francis T. Dove and C.W. Betts from Sierra Leone and Dr. Oguntola Sapara from Lagos. As a political, cultural, and commercial journal advocating Pan African-Asian nationalism and a forum for African intellectuals and activists from around the world it drew the attention of a wide variety of contributors. Among the writers in the ATOR were George Bernard Shaw, H. G. Wells, Lord Lytton, Annie Besant, Sir Harry H. Johnston, Henry Francis Downing, William H. Ferris and Marcus Garvey. The journal covered issues in the United States, the Caribbean, West Africa, South Africa, and Egypt, as well as in Asia, including India, China, and Japan. Marcus Garvey, who was living in London at the time, briefly worked for Ali and contributed an article to the journal's October 1913 issue. It ceased publication in October 1918, succeeded by the African and Orient Review, which operated through most of 1920.
Ali was a contributor to several leading European and American periodicals and his articles were translated and published in Germany, France, Austria, Turkey, Egypt and Japan. In the year following the demise of the African and Orient Review, Ali traveled to the United States, never returning to Britain. There he briefly worked in Garvey's Universal Negro Improvement Association movement, contributing articles on African issues to the Negro World, and heading a department on African affairs. He wrote and published "The Hull Coronation Ode," a history of Hull in verse, in 1902, a copy of which was presented to his Majesty King Edward VII.
In Europe he was recognized as an authority on Oriental affairs, political and social.
Some of the people who were mentioned: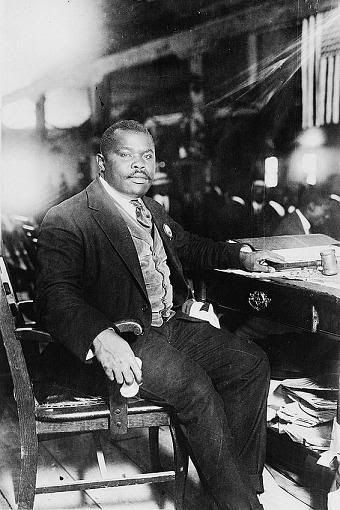 Marcus Garvey


Noble Drew Ali


Elijah Muhammad